Kid's Favorites Set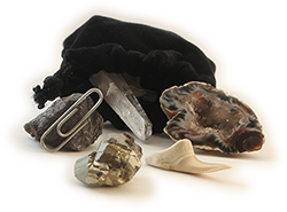 Years of working with Cub Scouts at day camps have shown that these are big favorites. Kids will call these items AWESOME! Includes: Fool's Gold Nugget, Shark Tooth, Quartz Crystal, Geode Half, Natural Rock Magnet (Lodestone). It also comes with a soft draw string bag to keep the items in.
Geology Study Kit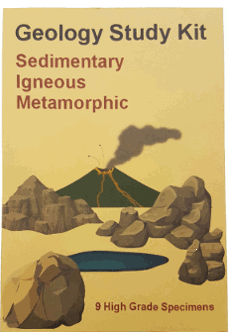 This kit will help you learn about the types of rocks. Learn about Sedimentary, Igneous, and Metamorphic rocks. The kit includes real specimens from each rock type so you can examine them first hand. Rocks included are: Sedimentary Rocks (Sandstone, Conglomerate, Limestone), Igneous Rocks (Basalt, Granite, Pumice), Metamorphic Rocks (Marble, Schist, Quartzite).
Gold Panning Kit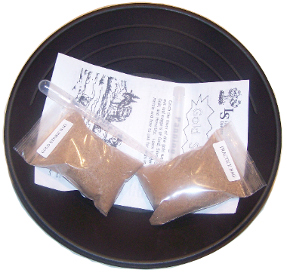 Catch the fever of the gold rush with this educational and fun gold panning kit! Instructions and Metal Identification Key help you learn about the qualities and uses of these minerals and how to identify them. Kit includes 10 1/2" Riffled Gold Pan, Suction Pipet, Display Vial, Practice Sand Bag containing Fool's Gold nugget and dust, and a Gold Strike Bag containing a Real Nugget of Gold, and a piece of Silver, Copper, and Hematite.